HOW TO CREATE A PDF WITH BLEED MARGINS
To get a polished and professional print finish without having to hire a professional graphic designer, many small businesses opt to create their own marketing materials to save money.
It is important to ensure your digital art files are properly set up when creating a PDF with Bleed Margins, we recommend that you always set up your art to follow the printing industries' standard bleed zone of 0.125″ past the document edge.
FULL BLEED PRINTING
When we want professional printing with color right to the edge, we must create a PDF with bleed margins. A bleed is anything that you want to print to the very edges of the finished product. The bleed area will be cut off in the final product, but printing it helps to ensure that your design will fully extend to the end of the page.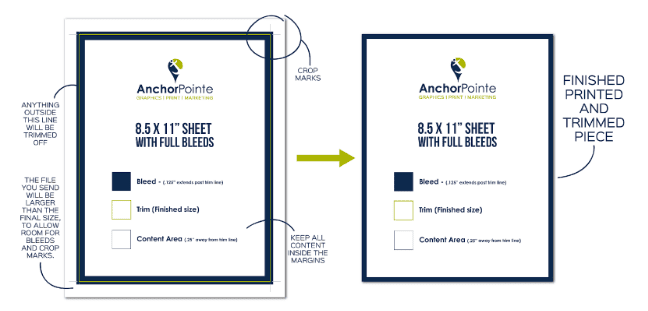 Printing services don't actually print to the edge.  They trim off the white margins so it looks like the color goes right to the edge.
BLEED AREA
The bleed area contains anything that you want to print to the very edges of the finished product: a line, photo, illustration, background, etc. This will prevent the very edge of your project from having an irregular white border by extending your artwork.
TRIM LINE
This line is the edge of your page, and anything past this line will be trimmed off.
CONTENT AREA
Anything within this section is safe, so keep all of your important text and visual content within this white box.
CREATING A PDF WITH BLEED MARGINS
Let's say you need 500 color prints of an 8.5 x 11 flyer.  To produce this, a professional printing service will require a PDF that is 8.75 x 11.25 because this includes bleed margins that will get trimmed off.
CREATING PDF WITH BLEED MARGINS USING ADOBE ILLUSTRATOR
Adobe software is the industry standard for professional graphic design.
If you are creating a new document (File, New…), adjust the Bleed. Set the four values for Bleed to 0.125 in (1/8th of an inch). Set the Width and Height to the desired finished size of your piece.
If you are modifying an existing document, click File, Document Setup… Then set the four values for Bleed to 0.125 in (1/8th of an inch).
Once you are done designing your document, click File and then Save in order to save a copy of your AI file before making a PDF. Then click File and then Save a Copy… A file save prompt should appear. Change the Save as type to Adobe PDF (*.PDF). Save this PDF file to a location that is easy to locate and give your file an appropriate name.
The Save Adobe PDF window will appear. This is the last step in the PDF saving process. Set the following:
Adobe PDF Preset – choose an appropriate PDF preset. It's recommended that you choose "Press Quality" to produce a file with proper resolution and color.
Marks and Bleeds – click this to show the settings for marks and bleeds.
Trim Marks – check Trim Marks and leave the other values at their default.
Use Document Bleed Settings –be sure to check this box, otherwise all of your effort to create proper bleeds will be ignored when producing the final PDF.
CREATING PDF WITH BLEED MARGINS USING MICROSOFT WORD
Microsoft Word is a widely used commercial word processor. Although not typically used for design, Microsoft word can be used to develop eBooks with the appearance of a bleed for online viewing.
Select File > Page Setup
In the Paper Size dropdown menu, chose Manage Custom Sizes
Click on the "+" sign and type a descriptive name, like "Edge to edge"
Under Non-Printable Area, choose User Defined
Enter zero for all margin values
WHAT CAN WE PRINT FOR YOU?
Have questions about creating PDF with Bleed Margins? We can help! Davant is a Greenfield Indiana printing solutions company that specializes in printing, print design, mailing, signs, and promo items.
Give us a call or shoot us an email with our online form.